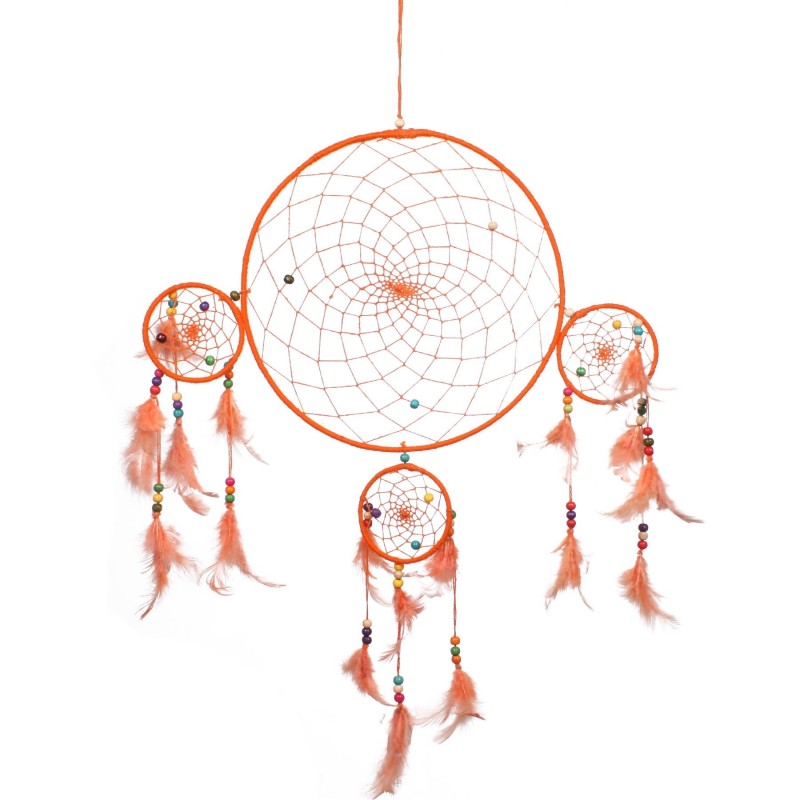  
Enchanting Orange Dream Catcher
Colors: As seen in picture
Material: Hemp, wooden beads and feathers
Size measurement: See image
Unit weight: 3.35 oz (90 grams)
Handmade in Nepal


Notes. The above price is per piece and in USD. We are a wholesale site and we require a minimum of US $499 total order value which includes free shipping.
Payment Security
Pay through Paypal. Your privacy and security is assured through PayPal.
Delivery policy
FREE WORLDWIDE SHIPPING! Express door to door delivery via DHL, UPS, FedEx etc.
Product Description
Enchanting Orange Dram Catcher
Hang this enchanting dream catcher in your bedroom and allow its sacred beauty and divine power to protect you while you travel through the dream world. It is made from a hoop wrapped in orange hemp yarn with a looped orange hemp web inside. It features three smaller satellite hoops, made of the same components as the main hoop, with decorative orange colored feather tassels hanging from them and it is embellished with wooden pearls in a multitude of colors.
It has a hanging loop at the top.
A dream catcher is a protective charm that brings you pleasant dreams at night and good luck during the day. According to tradition it is hung over the place you sleep, but it will work its magic from which ever place you might find it to be the most decorative in your home.
It is believed, that the dreams will travel through the dream catcher while one is asleep. Only the good dreams can pass through, while the bad dreams are caught in its web and will be destroyed by the first rays of the morning sun. The good dreams will pass through its hoop and gently filter down through the tassels and feathers, reaching the sleeping person below.


Notes
This item is handmade. As with all handcrafted products, slight variations in color, texture, design and size may occur from one piece to another. This is not considered a flaw but rather shows that it is an authentically handmade product, making each piece unique.

NB.
Please also note, that color discrepancies may occur between this product and your computer screen.