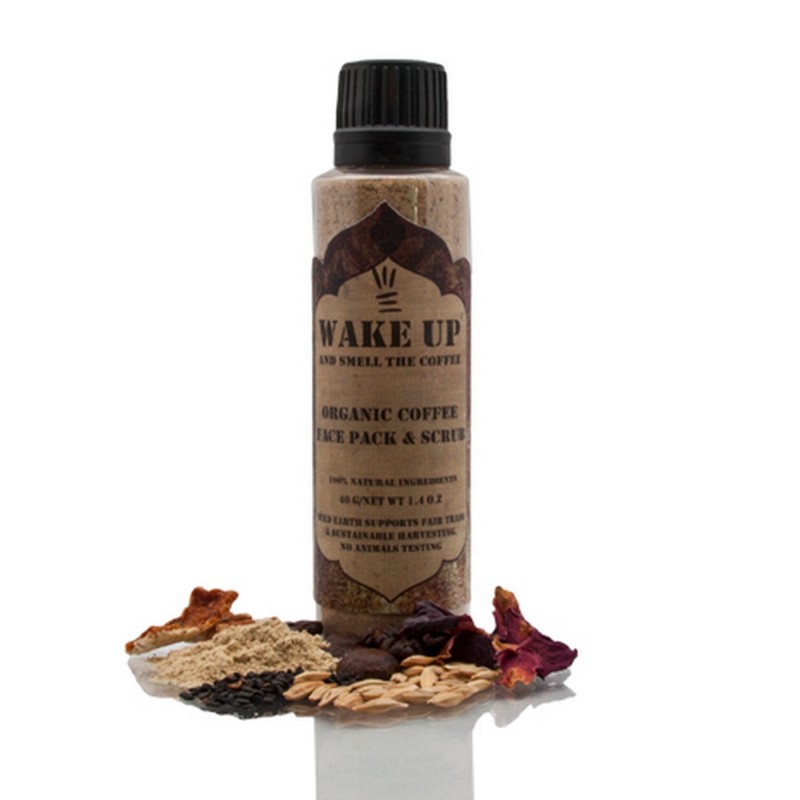  
Organic Coffee Face Pack And Scrub
Wild Earth's coffee face pack & scrub containing an exotic blend of ground rice and chickpea to cleanse your skin.

Unit weight: 1.41 oz (40 grams)
Handmade in Nepal

Notes. The above price is per piece and in USD. We are a wholesale site and we require a minimum of US $499 total order value which includes free shipping.
Payment Security
Pay through Paypal. Your privacy and security is assured through PayPal.
Delivery policy
FREE WORLDWIDE SHIPPING! Express door to door delivery via DHL, UPS, FedEx etc.
Ingredients
Oryza Sativa (Rice) Bran Cicer Arietinum (Chickpea) Seed Flour Oryza Sativa (Beaten Rice), Hordeum vulgare (Barley) Seed Flour, Coffea Arabica (Coffee) Seed Yellow Clay Santalum album (Sandalwood), Prunus amygdalus dulcis (Sweet Almond) Seed Sesamum indicum (Sesame) seed oil Citrus Reticulata (Orange) Peel Powder, Rosa Damascena (Rose Petal) Flower, Amomum subulatum (Black Cardamom) Oil, Mentha Piperita (Peppermint) Oil, Cinnamomum Verum (Cinnamon) bark Oil

Benefits
Coffee packs and antioxidant punch that is great for healing and restoring damaged skin. Removes toxins from the skin and stimulates blood circulation.

How to use
It can be used as a face scrub or as a face pack. Face scrub: Take the required amount of scrub and mix it with water. Massage gently on your face, using circular movements and wash off with warm water. Moisturize after applying. Face pack: 1 teaspoon of coffee face pack, 1.5 teaspoon of clean water, a quarter (1/4) teaspoon of honey. Mix well to make a paste. Apply the paste over face and neck till it dries – longer the better. Moisten the dried pack and massage for best results. Rinse off with warm water. Moisturize after applying.