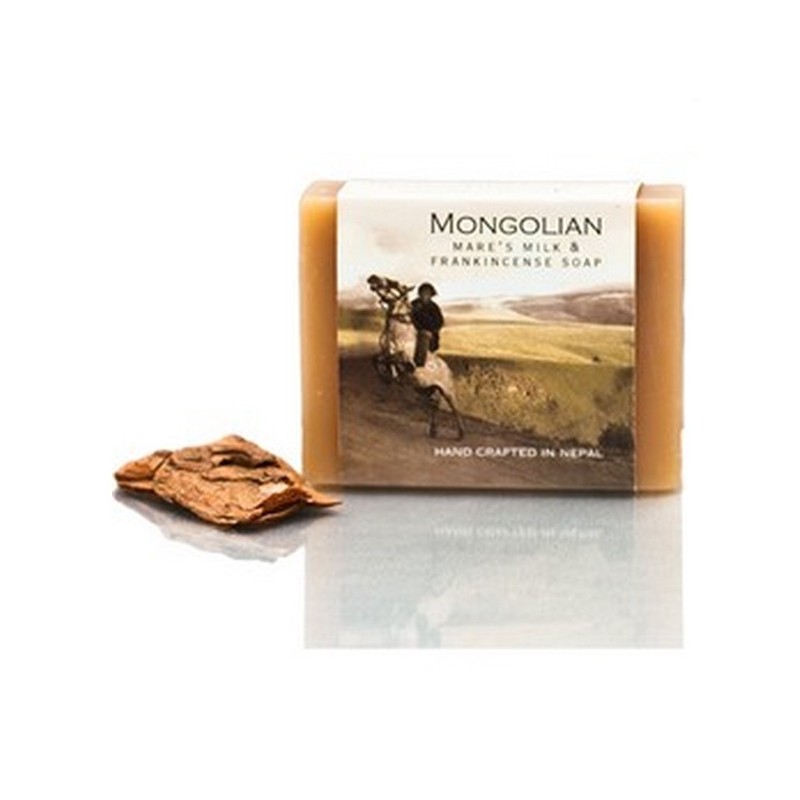  
Mongolian Mares Milk and Frankincense Soap
In Mongolia's vast wilderness horses outnumber people 8 to 1. Braving harsh winters, nomadic Mongols dream of summer when their mare's milk flows free. Grazing on organic wild grasses and flowers, the mares produce milk rich in Vitamins and herbs. While Mongols traditionally drink the milk, we have blended this Asiatic treasure into our soap. While Cleopatra bathed in ass's milk and rose petals, you can bathe with our milk and rose bar, which we think is far more exotic.

Unit weight: 3.53 oz (100 grams)
Handmade in Nepal

Notes. The above price is per piece and in USD. We are a wholesale site and we require a minimum of US $499 total order value which includes free shipping.
Payment Security
Pay through Paypal. Your privacy and security is assured through PayPal.
Delivery policy
FREE WORLDWIDE SHIPPING! Express door to door delivery via DHL, UPS, FedEx etc.
Ingredients
Cocos nucifera (Coconut) Oil Aqua (Distilled Water) Helianthus annuus (Sunflower) Seed, Elaeis (Palm) Oil, Olea europaea (Olive) Fruit, Cedrus deodara (Cedarwood) Wood , Milk Powder, Boswellia carterii (Frankincense) Oil

Benefits
Rich with the herbs and vitamins derived from the wild grasses and flowers on which the mares graze, mare's milk contains fourteen times the amount of Vitamin C found in cow's milk. While the Mongols traditionally drink the milk for its nutritional benefits, we decided to use it for skin in our soap. Mare's milk's valuable antioxidant properties fight free radicals, which age your skin. It is also very good for mature and sensitive skin.

How to use
Commercially milled soap is often harder than cold-process soap, but the milling process removes glycerin, the natural moisturizer that is created when soap is made. For a rich moisturizing soap that is kind to skin, we choose to retain the natural glycerin and recommend that a soap draining dish is used to prolong the life of the soap.